Every year, KOI holds a women's conference – Vivid – at this time of the year here in Windhoek, through which the lives of many women are changed due to the valuable information it brings using various speakers.
if you know her, or at least seen her from a distance, you know she knows how to look good – from the inside out in a way that make you want to aspire to be exactly when 'grow up' one day
Being the brainchild of Koi International Worship Centre's first lady, Tanya Amey [affectionately known as Lady T], she hosts Vivid every year. Beside her husband, Pastor Michael Amey, Lady T serves the congregation of Koi, in Windhoek, Namibia. Her passion and love for God is evident in the affection she has for His people. She commits herself to sharing the word of God and encourages people to seek God and to fulfill their call and purpose in life.
A Los Angeles-born 33-year-old mother of two herself, aged 7 and 5 (little Michael and Jasmine), Lady T's maternal, warm and nurturing personality has won the hearts of many, as she takes on the mother figure to so many who look up to her not only as a friend, but sister, mother and spiritual leader. Lady T has been hosting women's conference for the last five years and inspires women from all age groups and all walks of life to be the best they can be in every area of their lives.
So I caught up with her to dig into her insight on all things women, beginning with #TriviaTuesday to #SoulSearchSunday content, as well as what to expect at this year's edition of Vivid. Amidst her family at home and leading worship at church, not to mention her several commitments towards worthy causes in this country, it can't be easy being her. And if you know her, or at least seen her from a distance, you know she knows how to look good – from the inside out in a way that make you want to aspire to be exactly when 'grow up' one day.
I mean, the best of us women will tell their entire life stories just from our gloomy, depressed faces to the outfits we leave the house with to face the world. Goes to tell you that indeed, behind every strong woman is a rock solid support system – with or without a king. But this queen does have one heck of a queen. He validates and compliments her in public and looks at her in such awe that makes any girl want a king just like hers one day.
But how does someone with so much going on get time to do it with so much grace, I wanted to know. And here's what she had to say, first with your laid-back questions, to introduce you to her…
This interview is one of the six to be featured here this week.
#TriviaTuesday Lady T's way…
What are the 10 mommy life hacks you use around the house to help you save time, money, as well as electricity and water?
Hmm! I don't really have any specific hacks parse, because I usually steal mine from Pinterest. However, my surefire way to avoid spending unnecessary time and money on unnecessary things is planning, planning and more planning. Without proper planning of every aspect of your daily routine, it is easy to feel lost at some point.
My second best is involving the kids in, for instance, buying groceries for the family. That way, I end up buying only things they like rather than those I think they would like. No mom likes to make different meals every mealtime because one of her family members prefers different foods to the rest. So buying foods they like rather than those I think they would like goes a very long way in not only saving money, but time, money and energy, and yes, electricity. That goes for anything else I buy them too.
I end up buying only things my kids like rather than those I think they would like to avoid wasting money, time and energy on things they'll end up discarding.
Another tip I use is involving the kids in chores in a way that makes them feel special and responsible, especially my boy, Michael. I know those aren't 10 tips but they work for me. Everything else just flows. With church duties, I have an entire army that helps me slay each day God's way.
About saving time, generally, I don't know if you could ever save time
2. When do you pray during the day or find time to read the bible amidst your mommy and church duties? Why is it important to you?
I was brought up in the church, back in the States, and our parents taught us the value of prayer, which has stuck with me ever since. That said, I pray throughout the day by making myself consciously aware of God's presence in my life every moment I'm awake. So I don't really have any specific time slot to pray amidst mommy and church duties, really.
I pray and read my bible whenever I think of something that reminds me to go before God
I also make it a point to involve the kids in my prayer moments whenever I'm with them, like on the way to school in the mornings. We usually do our confessions in the car before I get one of the kids to pray. Thereafter, I pray and read my bible whenever I think of something that reminds me to go before God. I just make it a part of my daily routine by first committing each day in God's hands from the moment I get out of bed.
Prayer is very important to me because, being a 'born worshiper', I need to hear God when He speaks to me, for me to be able to lead worship in a way that my spirit is content it gives Him glory. So I'm always in prayer mode, no matter what's going in my present.
3. Any cool mommy tricks you've learnt lately that would help other working moms slay each day like pros – weather in the kitchen or just around the house with the kids and with the outside world? Does Pastor help you with chores? How do you get him to do that?
Like I said, I get the kids involved in chores and household responsibilities, and that takes a whole load off my plate. I can't say that's a trick or manipulation, but it works for me, especially with my boy, Michael – having responsibilities makes him feel more mature. He knows that as soon as we get home from school, he gets his little sister to help him get everything out of the car, prepare their outfits for school for the following day, before snacks, or homework or TV. That makes him feel responsible and special in a way that motivates him to ensure that his chores are done on time, every time.
I don't do a whole of cleaning, because we do have help around the house due to our hectic schedules, but we do clean up after ourselves. My husband loves to cook, so he usually takes care of that. So many helping hands help get a lot off my plate, which enables me to be mommy at home and at church without any strain from either side.
4. Could you share your best recipe that uses the least amount of water?
I am not a cook, inherently. It's not my preferred choice of chore, really. Besides, my husband slays that part of our everyday life. I also follow a very specific diet plan these days. I'm very much a chicken, fish and veggies kind of girl, which don't need any fancy recipes at all.
When I steam my veggies, the only amount of water I need is to wash them and a bit more to sprinkle on top to steam them. You don't really use a lot water when cooking chicken or fish either. When I cook my fish, the only amount of water I need is to wash it off and then season it with some olive oil and bam! It's on the stove. Plus, my kids like meals like pizza and the like, which don't require water at all to prepare.
However, I like to bake, a lot. And when you bake, all you need is your milk, butter and sugar. So I'd say my diet plan helps me save water in my kitchen.
5. Would you join in the #NoH2OChallenge and go without water for 24 hours? Why/Why not?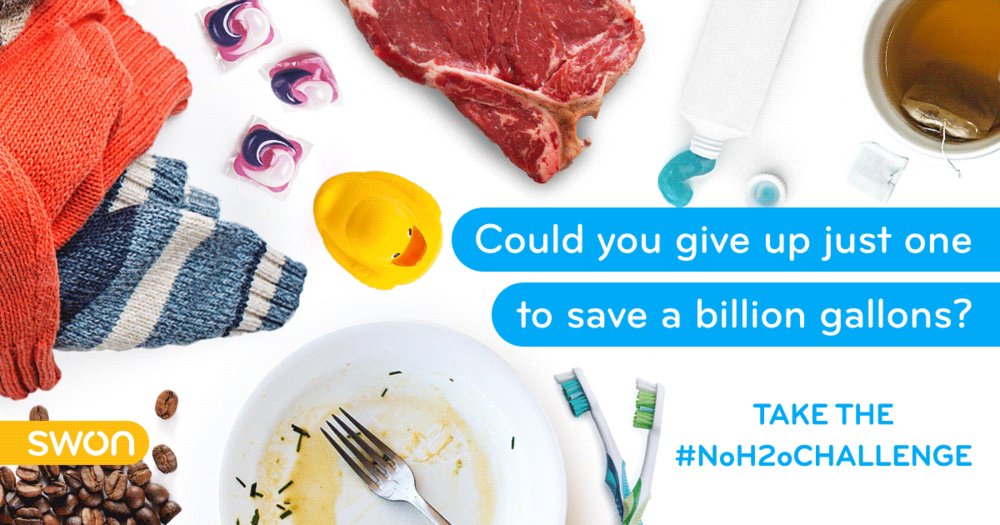 Would that include drinking water or using it to bathe and run my household? Whoa, no, I don't think I could participate, unless I get to stay in the house for 24 hours without going anywhere. For the sake of the cause, though, I could partially do it but it's a tough one, because I consume litres and litres of water in a day as part of my health plan. I guess I've never really thought about it. It's kind of hard to go without water, right?
6. Could you give us a sneak-peak of this year's edition of Vivid?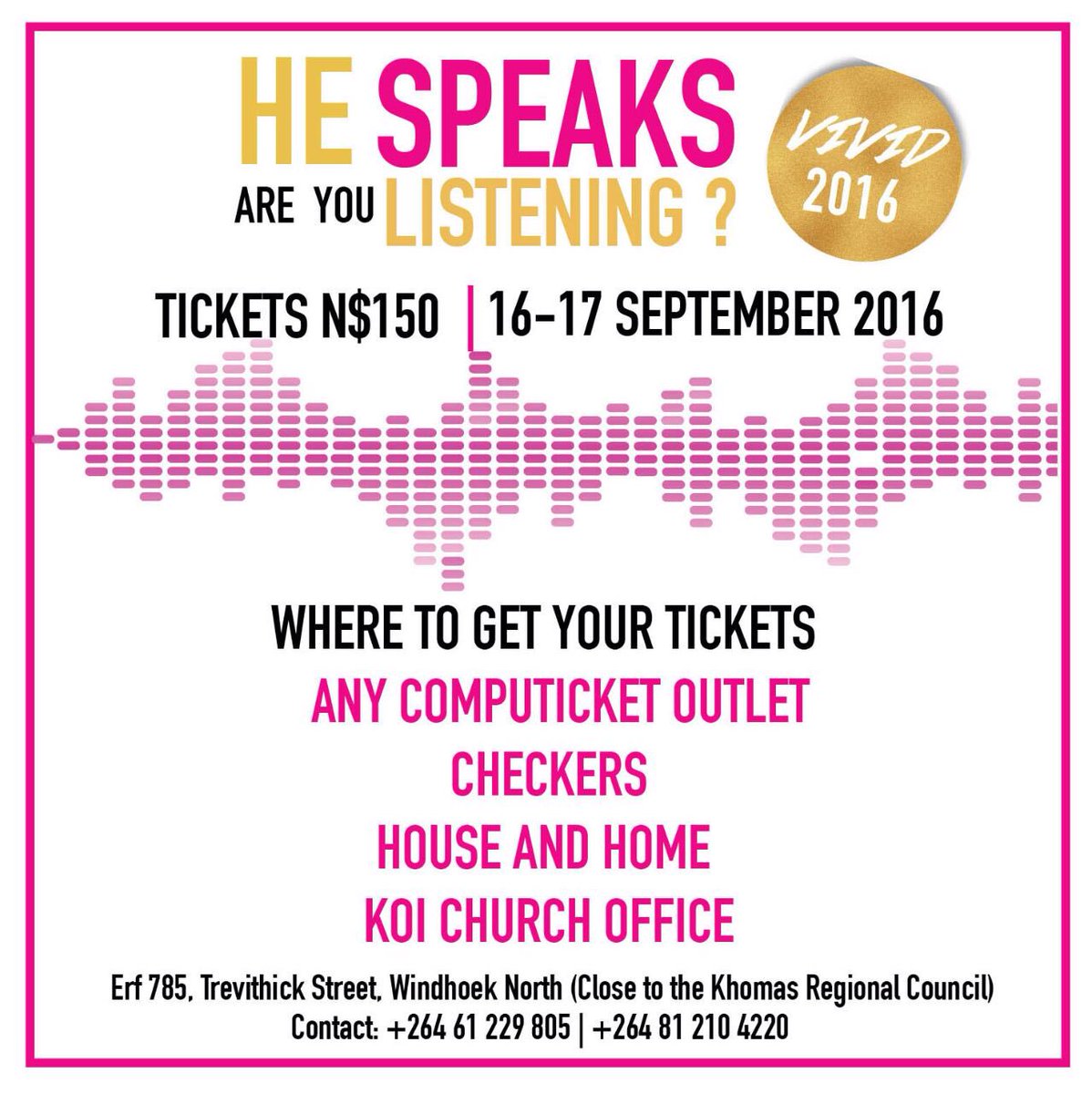 Vivid's sixth edition takes place this weekend, on 16th & 17th of September, with the theme; He Speaks: Are You Listening. Bringing together women from all walks of life, Vivid is a gathering of those who assemble with the intent to encourage, inspire and empower each other through the spirit of sisterhood.
Our conferences have been geared towards the empowerment of women in this great nation through inspirational word, practical and relevant information with relation to health and well-being, as well as tools to equip attendees on how to be effective in their lives as wives, mothers, daughters, business owners, employees, etc. This year will be no exception!
With Vivid as the conference motto, Lady T desires that all conferences be bigger, better, bolder and brighter.
Koi Arena is at 785 Trevithick Street, Windhoek North (Close to Khomas Regional Office). See you there, lady J #Vivid2016 #HeSpeaks.